Rural Wireless Broadband Contracting in Canada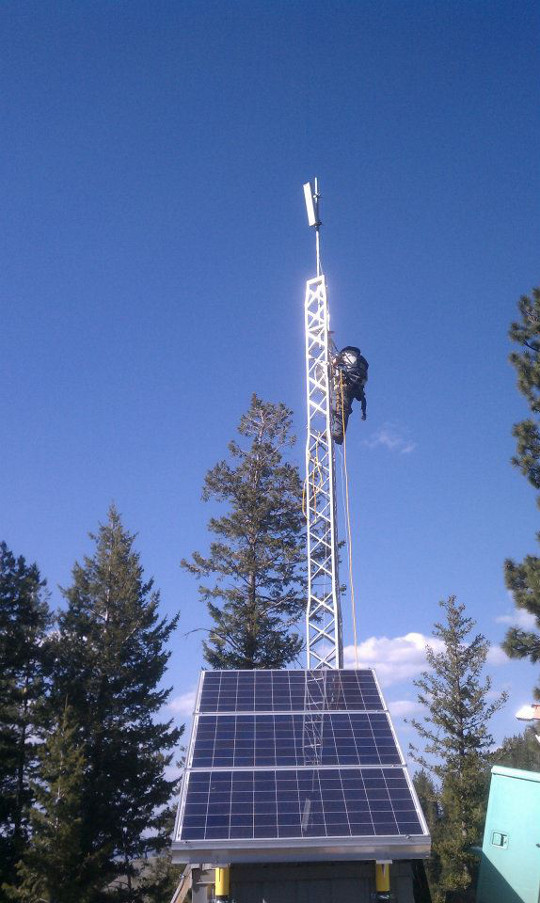 OneGigabit provides contracting and consulting services to implement high performance, cost effective rural wireless broadband projects throughout Canada. Our rural wireless broadband projects draw on the extensive experience of more than fifteen years in the wireless networking, telecommunications and ISP industry. The radio systems used are related to those for our metropolitan-area high-bandwidth point-to-point microwave services in Vancouver, but designed specifically for longer distances and the requirements of rural communities.
Within British Columbia, favorable topography allows us to provide high-speed broadband via fixed point-to-point and point-to-multipoint wireless solutions using hilltops, hillsides, mountaintops and other local terrain. Recent signficant price drops in the cost of solar power equipment for off-grid sites and advances in wireless point-to-multipoint radio technology enable the installation of mountaintop relay sites in locations that were previously impossible to service.
Using the local terrain and multiple relay sites at high elevations is frequently much less costly than building guyed or self supporting radio towers for WISP last-mile access.
What we do, and how we do it:
Solar power systems for off-grid telecommunications sites. These systems are designed in conjunction with low wattage radio equipment to provide last-mile Internet access in rural regions of BC and throughout Canada. Recent price drops in solar power equipment make off-grid systems economical in even the most northern latitudes, thanks to the market availability of 240W solar panels at less than $200 per unit. Our solar power systems are designed specifically to address the requirements of the Canadian off-grid telecommunications market, with limited daytime sunlight hours from November to March.
Site selection and GIS (geographical information system) surveys for rural broadband projects. OneGigabit's RF contractors utilize specialized radio frequency design software tools and GIS data sets to determine optimal locations for mountain top and hill-side relays, access point locations and network topology / paths from unserved locations to the nearest source of terrestrial broadband connectivity.
Radio frequency coordination and pre-build interference analysis of proposed WISP network architectures. OneGigabit provides services to eliminate or mitigate interference problems in the unlicenced and lightly licenced 3.65 and 5.x GHz bands.
Point-to-point wireless to extend service into unserved regions. OneGigabit designs and implements point-to-point service at distances from 20 km up to 150 km using both licenced and unlicenced frequency band radio equipment. Speeds of greater than 400 Mbps are possible on a dedicated point-to-point path, extending broadband service from the nearest city into the unserved/under-served region where wireless services will be provided. These links form the backbone of the network for WISPs (wireless InternetService Providers) in rural regions of Canada. As a result of post-2008 advances in point to point wireless radio technology, consuming significantly less energy than previous generations of equipment, extremely high speed point to point links can now be powered entirely using off-grid solar equipment.
Point-to-multipoint last mile access technology for individual residences, businesses and government offices located in rural regions of Canada. Using 60 to 90 degree beam width sector antennas and access point locations on hilltops or hillsides, OneGigabit designs and implements the last mile access to CPE (customer premises equipment) radios. Fixed wireless point-to-multipoint is a much faster alternative to access by satellite, providing broadband speeds from 15 Mbps up to 150 Mbps per subscriber within a 5 to 5 km radius of the access point radio location.
Network upgrades and rehabilitation. Is your community dependent upon a type of wireless last-mile access technology that was installed five or more years ago? Are your current access speeds insufficient to support modern broadband needs? OneGigabit can assist with upgrades and comprehensive network over-builds to significantly improve rural last-mile access speeds.

Mountain Top Solar Powered Off-Grid Relay Site

Mountain Top Solar Powered Off-Grid Relay Site