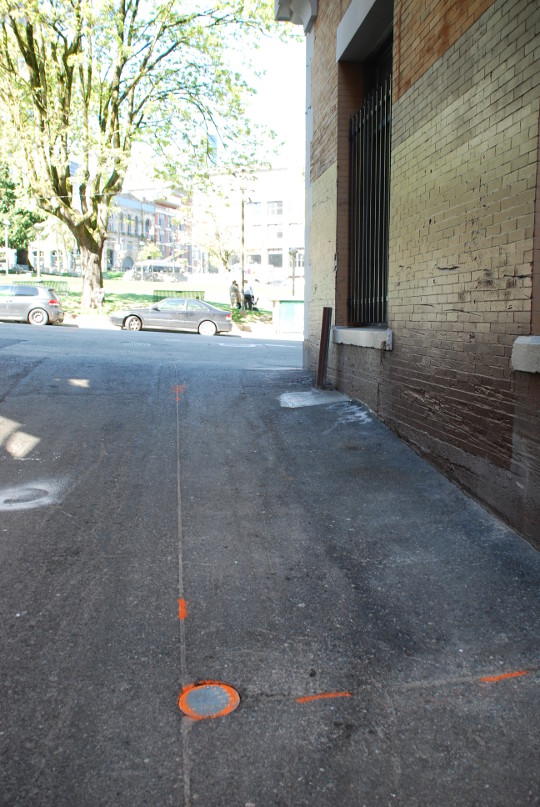 Vancouver: Contracting and Consulting Services
OneGigabit provides contracting and consulting services for property owners and managers, strata councils and real estate development firms.  We utilize a variety of methods to implement cost-effective, rapidly deployed outside plant fiber optic connections to currently unserved buildings.
Outside Plant Fiber Optic Cable Connections:
Micro trenched fiber.  Also known as "surface inlaid" or "vertically inlaid" fiber, micro trenching systems place armored fiber optic cable approximately 20 centimeters below the surface of a street or sidewalk using a high powered, diamond-bladed concrete saw.  The slot for the cable is filled in with a concrete grout compound matching the existing colour of the street or sidewalk.  This cable can carry up to 48 fibers and is significantly less expensive and complicated to impement versus traditional cut and cover trenching which requires digging up significant portions of a street.  For more information on micro trenching systems, please view the following videos:
Micro Trenching Video #1
Micro Trenching Video #2
Aerial FTTH fiber. In areas with existing wood poles, the last-mile fiber optic connection to a building can be accomplished through aerial pole-to-pole fiber. This fiber is highly rugged, designed to withstand the stresses of installation using methods almost exactly the same as are currently used to install copper telephone lines and cable television facilities. On a $ per km ratio, aerial pole fiber is one of the least expensive methods currently available to service the thousands of unconnected MDUs (multiple dwelling units) in the Vancouver area.  This photo illustrates aerial fiber installed two meters below power lines in the Yaletown area, with a pole mounted splice enclosure and transition into underground duct.
Duct: Where possible, OneGigabit also utilizes existing duct space in urban areas, leased from Telus, the incumbent local exchange carrier (ILEC) in BC. CRTC regulations permit competitive telecommunications firms to lease available duct space at a rate set by a fixed tariff, enabling rapid deployment of fiber using [air blown] systems and other micro-cables in ducts.  The duct space required for air blown fiber can be as little as 5 mm in diameter.