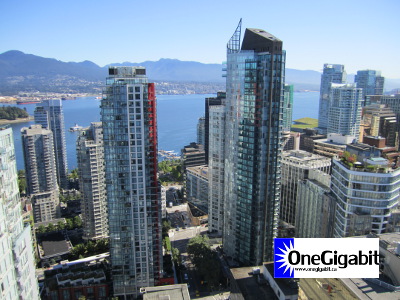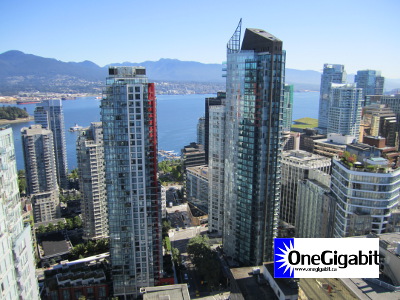 For MDUs (multiple dwelling unit) without existing cat5e or cat6 type Ethernet cable to the basement, OneGigabit offers retrofit and upgrade services which will future-proof a building's Internet access technology for the next 30 year or more. Through the installation of bend-loss insensitive singlemode fiber optic cable from a common junction point (typically a basement wiring closet) to each suite, individual apartments or condos are guaranteed connectivity to ISP routing/switching equipment at speeds of 1 Gbps, 10 Gbps or greater.
Bend loss insensitive fiber optic cables are designed specifically for the most demanding premises wiring requirements. Did you know that modern singlemode FTTH (fiber to the home) cables frequently cost less than $1 per meter and can be installed using almost exactly the same installation techniques as alarm wiring and other common low-voltage cables? The installation process does not require the services of a licenced electrician.
Previous generations of fiber optic cables were expensive, fragile and intolerant of rough handling during the installation process. Additionally, they required special protection in ducts designed for fiber optic cable and would suffer significant signal degradation if bent too sharply. Modern "G.657" type bend loss insensitive fiber was designed specifically to address these problems and is presently being installed throughout MDUs in East Asia with great success.
Cable datasheet: OFS "EZ-Bend" optical cables, and cables for premises wiring.
At wholesale cable costs of below $1 per meter, singlemode fiber optic cables for the retrofit of older apartment and condominium structures are an increasingly attractive option versus copper cabling.
OneGigabit has prepared pre-packaged sets of equipment, fiber optic cable, connectors, in-suite service connection boxes and routers specifically designed for Vancouver's large number of pre-1995 condominium and apartment buildings which presently lack building-integrated network connectivity. These equipment packages are designed to retrofit older buildings at a minimum of cost to the building owner. This retrofit will allow the building to join the list of apartments which are pre-qualified for 1 Gbps or greater Internet service.
As shown in the following videos, bend loss insensitive fiber can be installed using the same rough methods that are currently used to pull copper cables through walls, ducts and risers with zero impact on its performance: